The Bank has established a sound legal compliance system and framework, and through promotion and education and training, ensures the implementation of the legal compliance system.
2.1 Establishing Legal Compliance Risk Management and Supervision Framework
In line with the regulations of the competent authority, the Bank has established a Legal Compliance Risk Management and Supervision Framework, which has been reviewed and approved by the 16th meeting of the 25th Board of Directors on September 28, 2018, and submitted to the Financial Supervisory Commission (hereinafter referred to as the "FSC") for reference.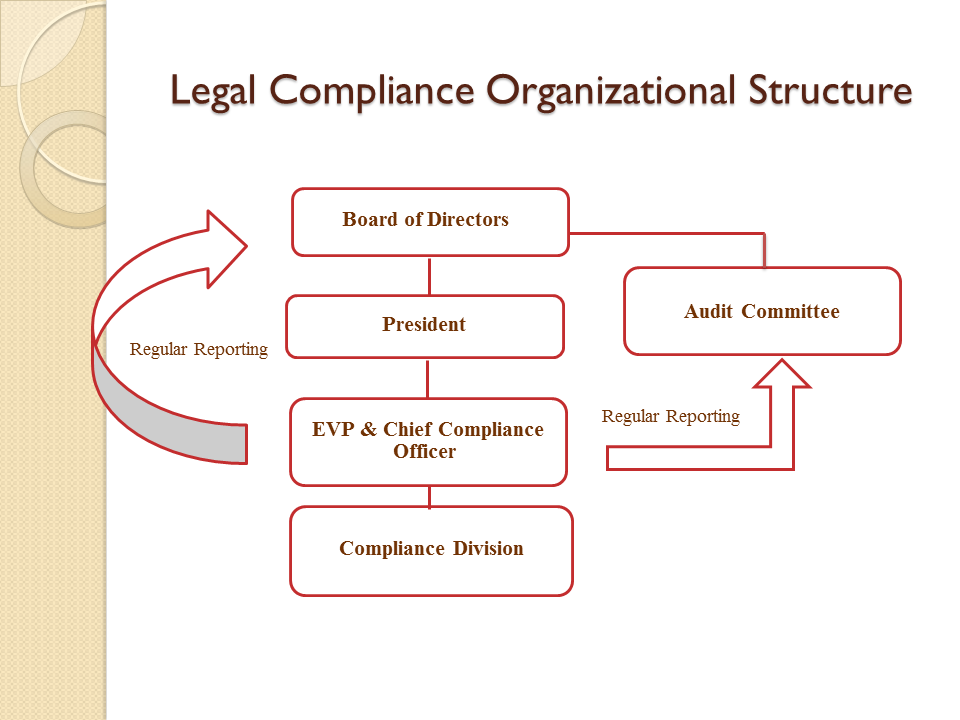 2.2 Operation of Legal Compliance Risk Evaluation and Reporting Mechanism
2.2.1 The Bank's Implementation Policy for Legal Compliance Risk Management and Supervision has been established to propose improvement suggestions for risks and weaknesses in terms of legal compliance, and follow up on the improvement measures proposed by the Sales Management Department through the two lines of defense meetings every quarter.
2.2.2 The Bank has established a regular legal compliance reporting and alert mechanism. For all units at home and abroad, except for regular reporting on legal compliance matters to the Compliance Division, the Compliance Division may also designate relevant information to be provided immediately for matters recognized by the Bank as possessing higher legal compliance risk; or, for specific legal compliance alerts, all units shall immediately notify the Compliance Division, as to promptly control the Bank's legal compliance risk situation.
2.3 Implementation of Legal Compliance System
The Bank has established the Measures for Implementation of the Legal Compliance System, which include regularly conducting legal compliance self-assessments, regular arrangement of legal compliance education and training, and continuous implementation of legal compliance on-site inspections, all in order to maintain the effective and appropriate operation of internal control systems and realize the Bank's legal compliance culture.
Read more
.